Sat, Sep 04, 2021 -- 2:00 PM-4:00 PM at Creator Haven LLC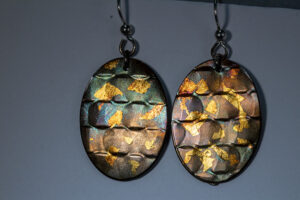 Love the look of gold, but not the price? Keum-Boo is the ancient art of applying gold foil to silver in jewelry-making. It is surprisingly easy to do, needs very little equipment, and can take your jewelry to a new level of sophistication.
Keum-Boo can be used on fine silver, sterling silver sheet or metal clay. In this class, you will make a pair of fine silver earrings. You will texture your earrings, add the gold, and finish the earrings in class. You will be using pre-made gold foil, but we will discuss how to roll your own foil to save on cost. We'll also talk about depletion gilding sterling silver to use in this process. (although for this class we will save time by using fine silver.)
All tools and equipment provided. Bring your own magnifying eyewear if desired. The Materials Kit includes fine silver earring blanks, gold foil and earring findings.
Saturday, September 4, 2:00pm to 4:00pm
Creator Haven, 41-B Hangar Way, Watsonville
$60 Tuition plus $58 Materials Kit Fee 
Wear comfortable "work" clothes, with closed shoes, hair tied back, and no loose scarves or sleeves that could present a hazard.
COVID-19: Students are required to be fully vaccinated in order to attend this class. 
Students are required to agree to and execute COVID-19 and General Liability releases prior to beginning the class.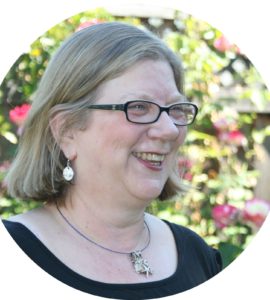 Instructor Pat Evans, Co-Owner of Creator Haven LLC, is a Senior Art Clay Certifying Instructor, a certified Paula Radke ArtGlass Clay Instructor, and has studied jewelry and glass with a wide assortment of internationally known teachers. Her work has been published by Lark Books, Metal Clay Today Magazine, Fired Arts and Crafts Magazine, and Metal Clay Artist Magazine.  She has taught in locations throughout the Bay Area and at various conferences and shows across the nation.
Reservations
Bookings are closed for this event.