Sat, Apr 01, 2017 -- 10:00 AM-5:00 PM at Creator Haven LLC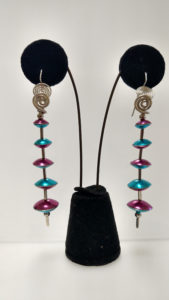 Learn versatile metalsmithing skills as you make these dramatic, modern, mixed-metal earrings with Rose. You'll learn to use disc cutters, daps and dapping blocks, tube cutters, and other tools.
Rose will teach you techniques including drilling, filing, sawing tubing, balling wire and finishing.
Finally, she will guide you in making your own earwires for a custom finishing touch. All tools will be available for your use during the class —- all you have to bring is your love of creating!
The Required Material Kit fee of $20 will be collected in class and includes sheet metal in assorted base metals, sterling silver wire, tubing, and other shared materials.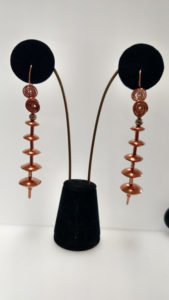 About Rose Pabon:
Rose is a classically trained metalsmithwith a BA degree in Art/Applied Design from SDSU; emphasis metals, fiber and book making. She studied under Lynn Merchant in San Diego, Helen Shirk, Katherine Harris and was influenced by Arlene Fisch.
Rose enjoys adapting old fiber techniques she learned from her grandmother to wire—for example, using a Loomette (an antique weaving tool) and crochet,. She developed a special wire loom incorporating metal and fiber, loose and tight weaves. She especially likes creating jewelry that has dual uses or secret compartments. She focuses on unique designs, and particularly enjoys working in collaboration with the buyer to create pieces that fit the wearer's personality and style. She is currently selling her new concept of "Diddle Daddles" at Ocean Breeze Boutique in Aptos and Way of Life in Capitola.
Rose says, "Being aware of my surroundings…not just nature but even the carving on a wall inspire my imagination and creativity. For me Art and Craft is a developed skill that takes time and commitment and a passion that comes from deep inside."
Rose works with all types of mediums and has created a variety of unique pieces such as wands, quills, journals, and shell spoons /bowls.
Reservations
Bookings are closed for this event.