Now that the Grand Opening is over, it's time to settle in to a good day-to-day routine. Here are the Open Studio hours I'll be having for February. I want my hours to suit your needs, so please give me your feedback.
Wednesdays-Fridays  12 noon – 9 pm
Saturdays  10 am – 6 pm
Sundays  1 pm – 6 pm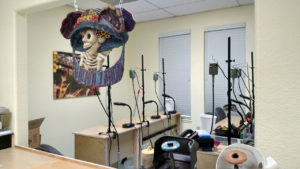 Studio memberships give you access to all these times for $120/month, or $600/6 months. Bench members get 24/7 access and a locked private bench room for $220/month or $600 for 3 months.