Sun, Sep 17, 2017 -- 1:00 PM-4:00 PM at Creator Haven LLC
No prerequisites – Ages 14 to adult – All experience levels welcome!
In this class you will make two personalized pieces while learning the essentials of working with metal clay.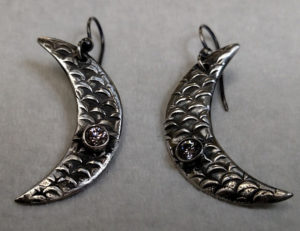 Six (6) hours of instruction presented in 2 Sunday sessions of 3 hours each (1p-4p, Sept. 17 and 24)
Silver metal clay is like magic! It starts in clay form and then fires to pure fine silver. Shape and texture it with simple tools to make genuine solid silver jewelry without solder, saws or toxic chemicals! After firing with a butane torch or kiln, the clay binders burn away and the silver molecules fuse together, resulting in .999 pure fine silver jewelry!  You can even add gemstones for extra bling.
You'll learn about the different types of metal clay and their uses, how to texture, embellish, mold and manipulate the clay, and how to set gemstones. You'll also learn techniques such as sanding, torch and kiln firing and finishing. You'll leave with finished jewelry and possess the necessary skills for your future creative explorations with metal clay! No prior metal clay or jewelry making experience required. Use of all tools, equipment and incidentals included.
Class fee of $110 covers both sessions.  Required $60 kit fee includes silver clay, the use of silver syringe, cubic zirconia gemstones, and findings and will be collected during class.
Pieces made in the first session will be finished and ready to take home in the second session; pieces made in the second session will be fired after class and available for pickup the following week.
Reservations
Bookings are closed for this event.