Tue, Jun 25, 2019 -- 6:00 PM-9:00 PM at Creator Haven LLC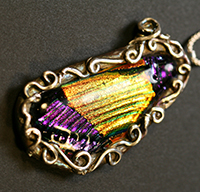 Dichroic glass sparkles and changes color depending on how you look at it. Metal clay is a magic product that works like clay and, when fired, becomes pure fine silver. Learn to create unusual earrings or pendants by combining these two unique materials.
Students will learn the qualities of fused glass, how to create fused glass "gemstones," and how to set the glass pieces in fine silver metal clay. Learn about kiln firing processes for glass and metal clay, as well as ways to shape and texture metal clay to hold and showcase the glass.
Students will leave with several fused glass pieces, at least one of which they will set in metal clay. The metal clay piece will be picked up one week after class after firing.
Register Early! This workshop is limited to just 10 participants.
Two 3-hour sessions: Tue. & Thu., June 25 & 27, 6:00 – 9:00 pm
Register before May 30: $95
Register after May 30: $110
plus $45 materials fee paid at registration

This class is offered through Cabrillo Extension