Sat, Apr 14, 2018-Sun, Apr 15, 2018 -- 10:00 AM-4:00 PM at Creator Haven LLC
This class is only available to members of MBMAG (Monterey Bay Metal Arts Guild). To join the Guild or enroll in th
e class, go to www.MBMAG.org
Class will be April 14-15, 10-4.
In this Members-Only workshop, the students will learn how to make filigree jewelry. Each student will learn to make their own traditional filigree wires and frame wire using some modern technology. We will construct simple bracelet links with 3 or more techniques incorporated to the design. Each student will also make an earring or pendant. Polishing, finishing and using filigree tools will be covered.
A kit fee of $50 will be collected in class.
The class will be held at Creator Haven, LLC, 41-B Hangar Way, Watsonville, CA 95076
You must be a current MBMAG member to participate. If you haven't yet renewed your membership for 2018, do it now so that you will be ready to register for this exciting workshop!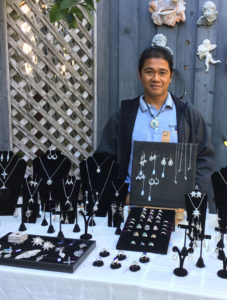 Pablo Cubangbang was born in a small town in the Philippines. He has acquired many skills in jewelry making from Cabrillo College and other workshops. He was mentored by Dawn Nakanishi. In a workshop by Dr. Yehuda Tassa, he learned the basic filigree process and fell in love with it and has continued to hone his filigree art in his small studio. Pablo received multiple Visual Arts Scholarships for his jewelry and watercolor pieces. Pablo is a member of the Monterey Bay Metal Arts Guild and is the president of the Cabrillo Seahawk Metal Arts Club.