Sat, Apr 25, 2020 -- 10:00 AM-1:00 PM at Creator Haven LLC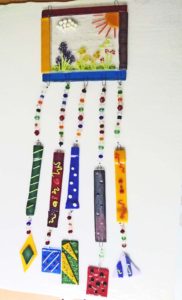 Combine the delicate, tinkling sound of glass with the luminous, vibrant colors of glass, and you have a wind chime like no other. Design and make your own colorful glass wind chimes as you learn about fused glass, the magical interaction of glass and heat. Students will learn to melt layers of glass together in a kiln, and can design their custom chimes to include pre-made glass beads or crystals to catch the light.
Students will have time to make one set of wind chimes and gain knowledge of basic fusing techniques, how to add embellishments to fused glass, how to add metal hangers to fused glass, and basic stringing and wire crimping techniques.
No experience necessary! Class size is limited to 10 so register early!
The class fee is $110 per person with Early Bird and Bring a Friend discounts available, plus a $35 materials fee. Register at Cabrillo Extension