Sat, Mar 07, 2020 -- 10:00 AM-1:00 PM at Creator Haven LLC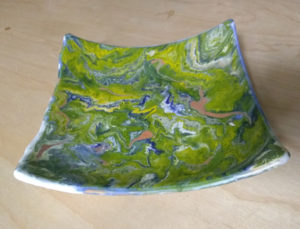 Fluid art and acrylic paint pours are versatile, highly customizable, and really satisfying! Learn how to use a glass enamel paint pour that will be permanently fused into glass! Students will layer and pour glass enamels, fusible ink, and medium onto glass to create luminous, flowing images.
Finished, fused, flat pieces will available for pick one week after class to allow time for fusing. Students will have the option, for an additional firing fee of $4 payable to the instructor, to turn finished pieces into a dish or bowl.
No glass or painting experience necessary!
The class fee is $55 per person with Early Bird and Bring a Friend discounts available., plus a $35 materials fee. Optional additional firing fee of $4 payable to the instructor, to turn finished pieces into a dish or bowl. Register at Cabrillo Extension