Sat, Feb 09, 2019 -- 12:00 PM-6:00 PM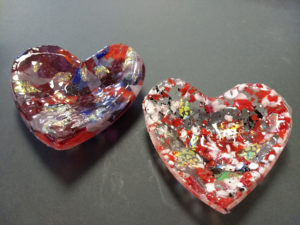 Create colorful, kiln-cast and slumped glass heart-shaped bowls as you play with colorful glass and learn about glass fusing – the magical interaction of glass and heat. In class, we'll learn to prepare molds, cut glass, and fill a casting mold to design your unique bowl. We will cut a heart shape, and refine by grinding, and learn how to create a "blank" for slumping with art glass, dichroic glass or glass frit, and cover safety practices as well. You'll have the opportunity to experiment with arranging the glass in the casting mold for luminous and fluid effects.
Bowls will be fired after class, for pickup on Feb. 13th.
No experience necessary! Class size is limited to 10 so register early!
Sat., Feb. 9
12:00 noon – 6:00 pm 
Room: At Creator Haven, 41-B Hangar Way, Watsonville
Register before Jan. 28: $95
Register after Jan. 28: $110
Register 2 or more: $90 each
plus a $60 materials fee paid at registration