Thu, Aug 09, 2018 -- 6:00 PM-9:00 PM at Creator Haven LLC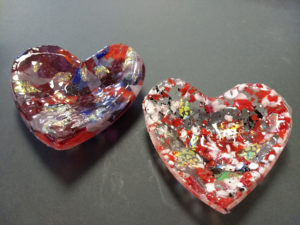 Create colorful, kiln-cast and slumped glass heart-shaped bowls as you play with colorful glass and learn about  glass fusing — the magical interaction of glass and heat. In class you will learn to prepare molds, cut glass, and fill a casting mold to design your unique heart shape. Students will learn to cut a heart shape, and refine by grinding, and how to create a "blank" for slumping with art glass, dichroic glass and glass frit, and cover safety practices as well. Students can experiment with arranging the glass in the casting mold for luminous and fluid effects.
This class is offered through Cabrillo Extension, so member discounts do not apply. Registration opens in mid-April. Please sign up at the Cabrillo website.