Thu, Jul 13, 2017 -- 2:00 PM-4:00 PM at Creator Haven LLC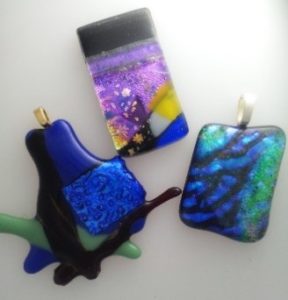 Fused glass is a great way to create colorful, unique jewelry. Add in some dichroic glass and you get amazing sparkle.  In this class you'll learn to cut glass, shape accents over an alcohol lamp, use frit and millefiori, and get some tips on good design.
You'll learn about kiln firing, but since glass takes hours to fuse and cool, you'll need to come back to pick up your pieces the following week.
$30 class fee includes all materials and use of tools. Sign up for all 5 summer series classes and get a $20 discount on the series!
You can pay online by PayPal or Credit/Debit card by clicking on the link below. (You do not need a PayPal account to use a credit card.) Or you can use Venmo where we are CreatorHavenLLC. If you choose Pay Offline, your registration will not be confirmed until we receive your payment.
Reservations
Bookings are closed for this event.