Sun, Jul 14, 2019 -- 10:00 AM-2:00 PM at Creator Haven LLC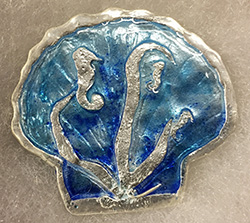 Fine silver metal clay looks like clay but after firing, is pure, .999 fine silver. It is the perfect base for transparent vitreous enamels, allowing you to add a world of luminous color to your jewelry.
Even if you've never made jewelry before, you can create a beautiful piece of jewelry that suits your own style! Students will learn to shape metal clay and prepare it for enameling, as well as special design considerations for enameling on silver, kiln firing, and finishing techniques. Students will leave with at least one piece of finished enameled silver jewelry.
This 6-hour class is presented in two 3-hour sessions on Sunday July 14 and 21 from 10 am to 2 pm
Register before May 30: $95
Register after May 30: $110
plus $65 materials fee paid at registration

This class is offered through Cabrillo Extension