Wed, Jun 26, 2019 -- 6:00 PM-9:00 PM at Creator Haven LLC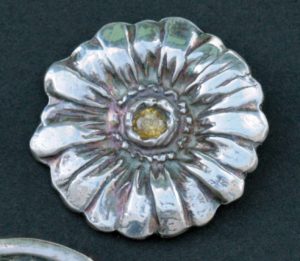 Silver metal clay is like magic! It starts in clay form and then fires to pure fine silver. Create two personalized projects while learning the essentials of working with metal clay.
Learn to shape and texture with simple tools to make solid silver jewelry without solder, saws or toxic chemicals. Then learn to fire and finish your beautiful creations.
This six hour class is presented in two 3-hour sessions — please plan to attend BOTH sessions.
You will find the registration link at Beginning Silver Metal Clay with Pat Evans – Session 1 of 2
Register Early! This workshop is limited to just 10 participants.
Wednesday, June 19 & June 26  —  6:00 – 9:00 pm
At Creator Haven, 41-B Hangar Way, Watsonville
Register before May 30: $95
Register after May 30: $110
Register 2 or more: $90 each
plus a $60 materials fee paid at registration