Sat, Jan 26, 2019 -- 1:00 PM-4:00 PM at Creator Haven LLC
No prerequisites – Ages 14 to adult – All experience levels welcome!
Learn the art and science of fusing art glass into cabochons, pendants and earrings.
Using colored and dichroic glass in a variety of textures, you will learn to cut glass, design and assemble, and fuse several pieces. Add metal inclusions and stringer shapes to make your own unique glass creations. Techniques include cutting, assembly, production, firing schedules, grinding, drilling holes and adding bails and other finishing touches. You will complete at least two projects of your own design.
The Class Fee of $60 covers 3 hours of group instruction as well as final finishing of your piece at pickup time (about 10-15 minutes of personalized instruction)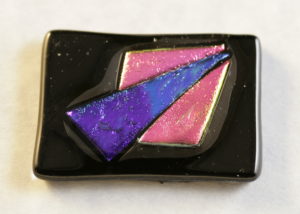 . The required Kit Fee of $30 includes a colorful selection of art glass and dichroic glass, stringer and frit, findings, use of all tools and equipment, handouts and firing fees.
We'll discuss firing and firing schedules, but your pieces will be fired after class and will be ready for pickup a week after class. At pickup time, you'll have the option of drilling holes for hanging your jewelry, or adding a glue-on bail (included in cost of class).
Reservations
Bookings are closed for this event.